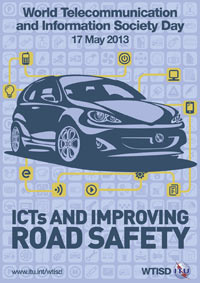 According to the Report of the
United Nations Road Safety Collaboration (UNRSC)
released by UN Secretary-General Ban Ki-moon, 1.3 million people die each year in traffic related accidents and another 20-50 million people are injured mainly in developing countries around the world. As a result, Governments and individuals suffer an estimated USD 518 billion in global economic loss. D
river distraction and road-user behaviour, which includes "text messaging" and interfacing with in-vehicle navigation or communication systems while driving, are among the leading contributors to road traffic fatalities and injuries. Road traffic safety is a global concern not only for public health and injury prevention but also to improve efficiencies in traffic management as a means of combating the effects of climate change.

ITU has been leading worldwide efforts in developing state-of-the-art ICT standards for Intelligent Transport Systems and driver safety that utilize a combination of computers, communications, positioning and automation technologies, including in-car radars for collision avoidance. ITU has also been developing standards for safe user interfaces and communication systems in vehicles as well as optimizing driving performance by eliminating unsafe technology-related distractions while driving.
Council 2010 Resolution 1318 states that ICTs, including intelligent transport systems (ITS), provide mechanisms for vehicular and passenger safety; and the development of in-vehicle architecture and a Vehicle Gateway Platform (VGP) requires cross-sectoral collaboration within ITU and among World Standards Cooperation (WSC) partners.
As the leading specialized agency of the United Nations for information and communication technologies (ICT), ITU looks towards its Members to harness the catalytic role of ICTs in improving road safety and traffic management systems.
Source:
http://www.itu.int/en/wtisd/Pages/2013theme.aspx