Company Profile
X-Treme was founded in 2001 and is a brand of products created by the Strategic Business Unit of the Sound Corporation group, whose objective is to produce"concert, touring and portable sound systems". In other words, professional audio systems dedicated to concerts, live open-air events or any other installation in a closed environment where live music is played.
This group's top management directly controls well-known brands such as Peecker sound (a leader in the "fixed installations and club sound" sector for over 30 years, with more than two thousand sound reinforcement installations and an international distribution network) and XTE (which deals mainly with "commercial sound").
Maintaining distinct independence in not only management and personnel, but also the strategic aims of the business unit, the X-Treme division, made up of an authentic enterprise with various working activities (from R&D to Production, Quality Control, etc…) can make use of both the tangible resources (i.e. joinery, the electronic department and the electro acoustic department) and the intangible resources (i.e. the know how of the engineers and technicians from the afore-mentioned companies, who are the current members of staff) of a group which has been operating successfully in the competitive professional audio sector since 1968.
Electronics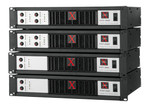 The new Digital Technology Series amplifiers with class D final stage are available in four models with a choice of powers and numbers of channels. The XTDT3200 and XTDT3800 models have two channels and supply power up to 1600 W and 1900 W, respectively, per channel on 4Ω. The XTDT4800F and XTDT6000F models, on the other ... [Learn more]

The X-Treme XTDP24 and XTDP26 digital processors (which have 2 inputs/4 outputs and 2 inputs/6 outputs, respectively) are professional management systems for speakers and, as such, can be used for stereo configurations up to 2/3 ways or mono up to 4/6 ways. Each input has a 6 band parametric equalizer, a high-pass filter and two ...
[
Learn more
]
Source and for all other details: