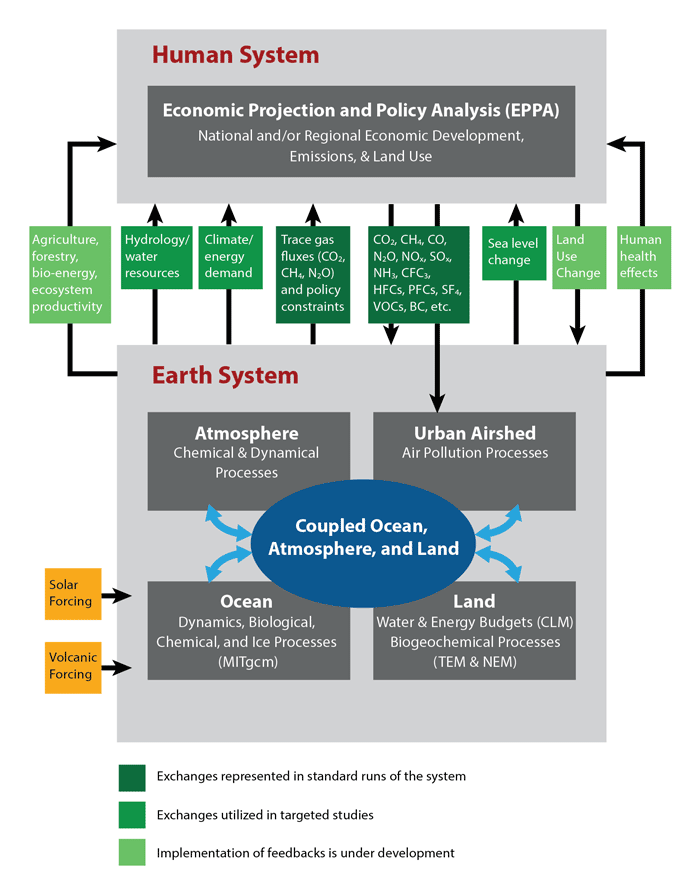 At the heart of the Joint Program's work lies the MIT Integrated Global System Modeling framework (IGSM). This comprehensive tool analyzes interactions among humans and the climate system. It is used to study causes of global climate change and potential social and environmental consequences.
Our
central research
efforts are organized around the IGSM and strive to improve the integratation of climate science, technological change, economics, and social policy analysis into forecasts of the pressing issues in global change science and climate policy.
The MIT IGSM seeks to answer such questions as:
How effective and costly would specific policy measures be in alleviating climate change?
What are the advantages and risks of waiting for better scientific understanding of such change?
How will the oceanic and terrestrial uptake of carbon dioxide and other greenhouse gases be affected by changing climate?
What nations, regions, and economic sectors are most likely to be affected?
The IGSM consists of three primary components:
Economics, emissions, and policy cost model for analysis of human activity as it interacts with climate processes, and to assess proposed policy measures;
Climate and Earth system component: coupled dynamic and chemical atmosphere, ocean, land, and natural ecosystem interactions and feedbacks; and
Land ecosystems and biogeochemical exchanges models, within a Global Land System framework, for analysis of the terrestrial biosphere.
These components then inform a component that analyzes the feedbacks and impacts of climate change. Within the current formulation of the IGSM the consideration of climate change impacts emphasizes terrestrial ecosystems and sea levels, feedbacks of changed climate onto the carbon cycle and natural emissions of CH4 and N2O, effects of climate change and ozone pollution on agriculture, and the interaction of climate chemistry with its counterparts in urban air pollution.
The configuration and capabilities of the IGSM are described in
Sokolov et al., 2005 (Report 124)
. An earlier version is documented in
Prinn et al. (1999)
.
An IGSM run data portal is available for public download for research purposes only. There is no user support. Click
here
to access it.
Source:
http://globalchange.mit.edu/research/IGSM