A guidebook by Tunç Fındık, that illustrates the 50 chosen climbing routes for the Turkish Taurus range of The Aladag. The book gives comprehensive info about ridge routes, technical walls, ice & mixed climbing in The Aladag. İncludes a 1:25.000 scale topo map of the area. İn English language, 150 pages, by Geven Yayinevi, 2011.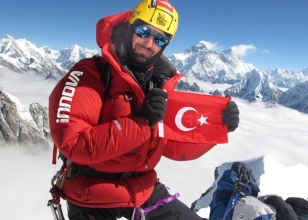 TUNÇ FINDIK
14 x 8000 PROJESİ NEDİR?
Yeryüzünde 8000 metre yüksekliğini aşan sadece 14 adet dağ vardır. Bunların hepsi de Himalaya ve Karakurum sıradağlarında, Tibet (Çin), Nepal ve Pakistan'dadır. Sözkonusu 14 adet 8000 metrelik dağların zirvesine tırmanış, dağcılıkta bir tür dünya rekorudur, daha doğrusu bir 'dağcılık maratonu'dur. Dünyada günümüze dek bunu tamamlayan sadece 13 kişi (yaşayan 12 kişi) bulunmaktadır, 30 kadar kişi de 10′un üzerinde 8000′lik dağa çıkmıştır. 14 x 8000′i dünyada ilk tamamlayan kişi ünlü İtalyan dağcısı Reinhold Messner'dir ve 1986 yılında tamamlaması 16 yıl sürmüştür. Diğer yandan, Koreli Park Young Seok'un bu projeyi tamamlaması 6 yıl kadar sürmüştür.
8000 metrelik dağların tümüne çıkma olayı bir koleksiyon DEĞİLDİR. Bu bir dağcının kendi azmi ve iradesiyle savaşı, büyük zorluklarla mücadelesidir. Benim için de çekiciliği burada zaten.. insan dünyaya bir kez 8000 metreden bakmaya görsün, bu hastalık damarlarından çıkmaz. Geri dönmek, yine ince havayı solumak için can atarsınız! Bu herşeyiyle bir mücadele; tırmanışın ve ortamın kendi zorlukları dışında gereken finansmanı bulmaktaki zorluklar da olağanüstü.
8000 metrelik dağların bir kısmı görece kolay rotalardan çıkılan devlerdir. Bir kısmı ise son derece tehlikeli, riskli girişimlerdir. Everest bunlar arasında en kolay olanlardan çünkü popüleritesinden dolayı lojistiği çok iyi. Annapurna ve Nanga Parbat ise görece tehlikeli olanlardan- çığ nedeniyle. K2 kötü havasıyla ünlü.. kısaca hiçbiri kolay değil; mükemmel planlama ve şans gerektiren projeler. 8000 metrelik dağların en büyük farkı cüsseleri büyüklükleri; 8125 metrelik Nanga Parbat, neredeyse tüm Niğde'nin Toros-Aladağlar'ını kapsayacak kadar geniş ve büyük bir dağ mesela.
8000 metrelik dağların zorlukları, insan bedeninin bu yükseklikte yaşamaya uygun olmaması ve bu dağlardaki şiddetli arazi/iklim koşullarından kaynaklanır. Hava basıncının ve havadaki oksijen doygunluğunun üçte bir seviyeye düştüğü bu aşırı yükseklikte tırmanış yapmak bir yana, sadece yaşamı devam ettirebilmek bile önemli bir başarıdır çünkü insan vücudu sadece oksijenli ve normal atmosfer basınçlı ortamlarda çalışmak üzere yaratılmıştır. Oksijensiz ortamlarda vücut ve beyin fonksiyonları giderek azalır ve birçok yükseklik hastalığı ortaya çıkabilir. Bu dağlardan birçoğunun içerdiği teknik tırmanış zorlukları ve şiddetli meteorolojik koşullar da eklenince tablo giderek ağırlaşır ve 8000 metrelik bir dağa tırmanış, bir tür irade ve yaşam savaşı halini alır. Alçak bir dağda olsa normalde bir-iki hafta sürecek tırmanışlar, 8000 metrelik dağlarda aylarca zaman alabilir, bu da lojistik açıdan sorunlara yol açar. Ancak tüm bu zorluklar karşısında kendiyle mücadele eden dağcı, 8000 metrenin seyrelmiş havasından dünyayı seyretmeyi haketmiştir.
Türkiye'de, hele ki bu ekonomik krizde 14 x 8000 gibi uzun soluklu bir projeye sponsor bulmak çok zor. Bu, biraz da spor sponsorluğunun birçok şirket tarafından hemen hiç anlaşılmamasından kaynaklanıyor. Ama parça parça, ömrüm boyunca uğraşarak da olsa bu olağanüstü enteresan ve zorlu projede ilerlemeyi göze aldım ve yola çıktım.. Bu güne kadar 9 adet 8000′lik dağa gittim- Everest/ Nepal (2001), Broad Peak /Pakistan (2002) , Cho Oyu / Tibet (2005), Lhotse /Nepal (2006), Everest / Tibet (2007), Dhaulagiri / Nepal (2009), K2 / Pakistan (2009), Gasherbrum II / Pakistan (2009), Makalu / Nepal (2010), Kanchenjunga / Nepal (2011) ve iki kere Everest olmak üzere, 7 adet 8000′liğin zirvesine çıkmış oldum. Sırada 8 adet daha 8000 metrelik zirve beni bekliyor, yani neredeyse ömür boyu sürecek bir mücadele!
Peki bu dağlara çıkmak garantili mi? Kesinlikle HAYIR. 8000 metrelik bir tırmanışı, o seneki kötü hava veya derin kar gibi objektif riskler veya kişisel sorunlar nedeniyle yapamamak da olasıdır. Unutmamak gerekir ki, hiçbir şey hayat ve sağlığınızdan değerli değildir. Dağ orada, nasıl olsa bir daha geri dönülebilir.. Örnek olarak, 2002 yılındaki Broad Peak (8047 m.) tırmanışımızda tehlikeli kar koşulları dolayısıyla 7000 metreden öteye gidemedik (o sene derin kar ve çığ tehlikesi nedeniyle hiçbir Pakistan zirvesine çıkılamamıştı) ve 2009 yılındaki K2 ve Gasherbrum II tırmanışlarında dengesiz hava ve yükseklerdeki çığ koşulları nedeniyle zirve olamadı… 2010 yılında gittiğim 2. 8000′lik dağ olan Tibet'teki Shishapangma Dağında da çığ riski nedeniyle 7900 metreden dönmem gerekti. Zirveyle sonuçlanmayan Broad Peak tırmanışı da benim için çok değerlidir çünkü 8000′lik bir dağda sadece iki kişi, destek olmadan bir tırmanış yapmayı denemiştik. K2 dağı müthiş bir mücadele oldu çünkü Cesen Rotası denen, klasik rotadan farklı ve daha teknik bir rotada, 1500 metre kadar tırmanıp ip hattı döşedik; K2 gibi efsanevi bir dağda olmak, kaya ve buzunda tırmanmak bile muazzamdı. Gasherbrum II zirvesinde, hava ve kar izin verseydi solo tırmanışla zirveye ulaşacaktım. Tüm bunlar bir dağcıya çok şey katan deneyimlerdir.
DÜNYADAKİ 8000 METRE ÜZERİNDE OLAN ZİRVELER (yükseklik sırasıyla):
1. EVEREST 8850 m /29.028 ft (Nepal/Çin sınırı)
2. K2 8611 m /28.250 ft (Pakistan /Çin sınırı)
3. KANGCHENJUNGA 8586 m /28.169 ft (Nepal / Hindistan sınırı)
4. LHOTSE 8516 m / 27.940 ft (Nepal/Çin sınırı)
5. MAKALU 8463 m /27.766 ft (Nepal/ Çin sınırı)
6. CHO OYU 8201 m /26.906 ft (Nepal/Çin sınırı)
7. DHAULAGİRİ 8167 m /26.795 ft (Nepal)
8. MANASLU 8163 m/ 26.781 ft (Nepal)
9. NANGA PARBAT 8125 m /26.660 ft (Pakistan)
10. ANNAPURNA 8091 m /26.545 ft (Nepal)
11. GASHERBRUM I 8068 m /26.470 ft (Pakistan/ Çin sınırı)
12. BROAD PEAK 8047 m /26.400 ft (Pakistan/Çin sınırı)
13. GASHERBRUM II 8035 m /26.360 ft (Pakistan /Çin sınırı)
14. SHİSHAPANGMA 8013 m /26.290 ft (Çin) (bazı kaynaklarda 8046 m olarak geçmektedir)
Source:
www.tunfindik.com